The Predmostnaya Square area is a strategic place for Krasnoyarsk, the gateway to the historical city center overlooking the Yenisei River and the Ostrov Otdykha Island.
We therefore envisaged the plan as a symbol, a manifesto of the political vision for the Krasnoyarsk of the future: an innovative city based on fundamental pillars such as Education, Culture, Ecology and active Sociality.
The design, in addition to the infrastructural rationalization of the area and the redevelopment of the riverfront, includes the definition of three strategic public buildings for the city and the local culture: the new headquarters of the prestigious KGAPOU Coreographic College (the Krasnoyarsk Academy of Dance), the new Pozdeev Centre for the creative arts and a new hub for environmental education and information (Eco-hub).
The proposed plan is conceived to enhance the valuable relationship between the city and the river, allowing the city to permeate and extend towards the Yenisei banks and the nature to climb back towards the city to let it improve its breath.
The building is a mosaic of architectures, each of which designed with a specific and distinct language and identity: the Coreographic College is a greenhouse overlooking the river, a magical and bright place where to grow talents and share experiences in a perfect balance with nature; the Pozdeev Centre, designed like a large sculpture, is a dynamic and engaging workshop where, at the same time having the chance of experiencing, exhibiting, learning and producing artistic culture.
The Eco-hub, immersed in a luxuriant larch forest, is a glazed pavilion designed to host exhibitions, conferences and other activities aimed at promoting the culture for the environmental responsibility.
RENDERING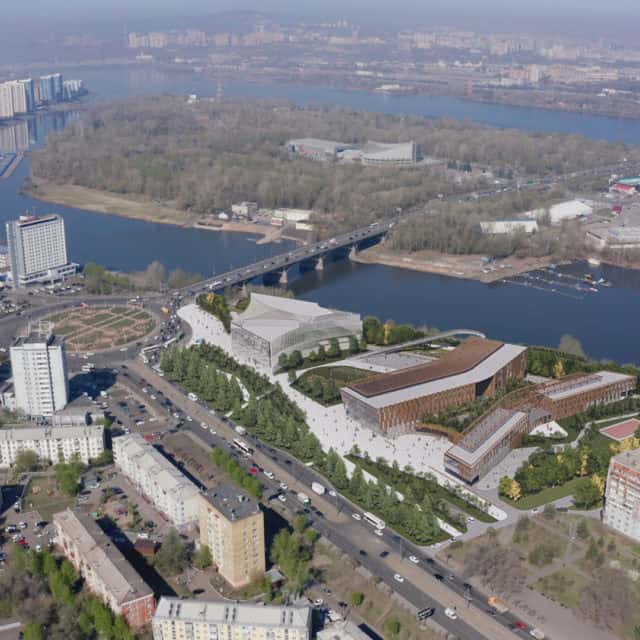 DRAWINGS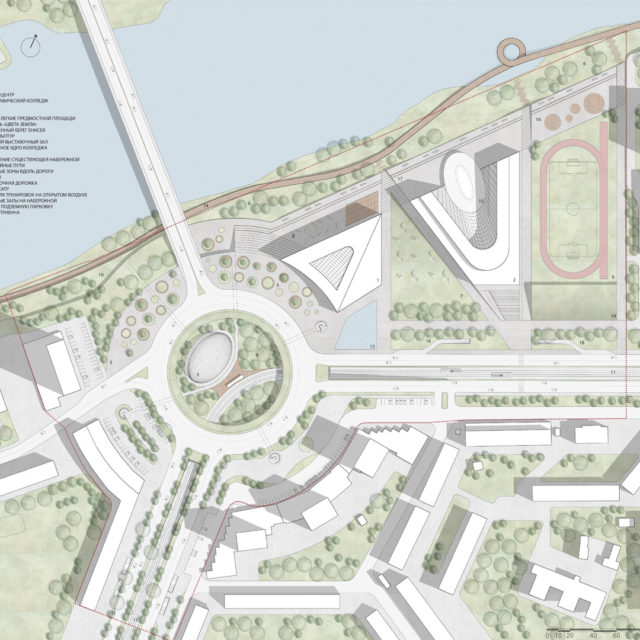 CLIENT
Krasnoyarsk Municipality
Cooperative Design Workshop A-2 Limited Liability Company (KPM A-2 LLC)
LOCATION
Krasnoyarsk, Russia
DIMENSIONS
Plot area: 140.000 sqm
Built area: 27.315 sqm
CONSTRUCTION BUDGET
45.424.500 €
TIMELINE
2020 Two-phases design competition - First Prize
2022 Preliminary design

STRUCTURAL ENGINEERING
F&M Engineering S.p.A.
MEP ENGINEERING
F&M Engineering S.p.A.